Who We Are
Fueled by an energetic staff, the lively energy of Lido Di Manhattan Ristorante & Bar is constantly buzzing with special events, happy hours, live music, and wine tastings. Lido Di is a classy & contemporary wine bar and restaurant serving Italian, California-fresh cuisine in Manhattan Beach, CA.

All of our food at Lido Di Manhattan Ristorante & Bar is exquisite. Our chefs perfectly craft each original recipe to bring out and the natural flavors of all our fresh ingredients. Some standout dishes include the vodka pasta and the original flatbread pizzas, which always arrive piping hot with a crisp, tangy crust. Fitting the Cali-Italian theme, all the salads are excellent, especially the "Green Goddess" dressing, which has just the right amount of bite. These delicious selections are accompanied by an extensive list of top quality wines, and all of Lido's breads, pastas, and dressings are homemade from scratch. 

Lido Di Manhattan's stylish atmosphere of traditional elegance combined with a contemporary flair makes the lounge area and bar an inviting space for social activity and happy hour cocktails. Our spacious booths and colorful artwork create an interior palette of comfort and class, perfect for any occasion. Additionally, there is a large outdoor patio which seats up to 55 people at the rear of the restaurant that can be rented or used for special events.

If you haven't already visited us at Lido Di Manhattan Ristorante & Bar, then you're seriously missing out. Come spend your next happy hour with us, and stay for a delicious dinner that is sure to impress! We look forward to serving you.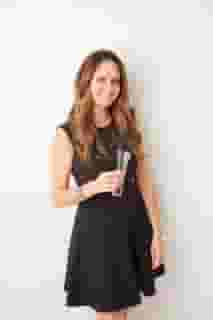 Meet the Owner
Lisa Marie Hemmat grew up in Mount Vernon, Washington, a small town just north of Seattle. At the age of fifteen Lisa began her first venture when she contracted a local venue and promoted it as a weekly underage nightclub. The club was an instant success and drew crowds from as far south as Tacoma and as far north as Vancouver, British Columbia. In 1999, Lisa matriculated into the Entrepreneurial program at the University of Southern California, and graduated Magna Cum Laude in 2003. During her years at USC she co-founded an events planning company called Summertyme Entertainment, which coordinated after-party events for such international artists as Eminem, Black Eyed Peas, Everlast etc. During the summers of her college years, Lisa started her own dessert business selling homemade pies at farmers markets all over Western Washington. Lisa spent the year following her graduation traveling through Europe and enhancing her knowledge of fine foods and wines and returned to California determined to find the perfect restaurant of her own; Lisa fell in love with Lido di Manhattan immediately.

On June 11th, 2004 ownership of the Lido di Manhattan Restaurant officially changed hands, and Lisa Hemmat took over the management of the Italian-Californian fusion style restaurant. Whereas the previous owners were unable to spend the necessary time needed at the restaurant due to other obligations, Lisa has dived in with a passion for the business and a commitment to bring the sleepy restaurant back to life. With a genuine belief in Lido's enormous potential, she has revamped the atmosphere and livening up the restaurant with special events, happy hours, live music and wine tastings, all fueled by an energetic kitchen staff and an innovative new outlook. Lisa has been looking for the right opportunity to expand and believes Playa Hermosa's location on Hermosa Pier is the perfect fit.